Basic Blackjack Strategy
by Michael Bluejay of Vegas Reference for Bonus Rating • April 2005
Basic Blackjack strategy is a table telling you whether you should hit, stand, double down, or split according to what cards you hold and the dealer's upcard. Using the BJ basic strategy gives you the best possible blackjack odds, maximizing your casino wins and minimizing your casino losses.
Using basic bj strategy doesn't guarantee that you'll be a big winner. The odds are against you in almost every online or vegas casino game, and nothing can change that. Playing with proper strategy just means that you'll increase your chances of winning, and minimize your gambling losses when you do lose.
Before we see the specific basic bj strategy plays we need to understand why basic strategy for bj works in the first place.
Using basic blackjack strategy doesn't mean you win every hand, or even most of them. It simply means that the play you make will give you the best odds on average compared to any other play you could make. Let's say you have a 17 and the dealer shows a 6. Would you hit or stand? If you've played blackjack before you know that you'd stand, and that's what basic strategy says to do. But uh-oh, the dealer turns over a 10, and hits with a 4 to get 20. Had you hit you would have had 21. Does that mean that standing was the wrong play, and you should have hit?
No, it was correct to stand, even though you lost. That's because you can't know exactly how the hand will play out. We know that most of the time it's better to stand on a 17 vs. a 6 then to hit, so that's the way we should play. You can't play hunches, because if you do you'll lose more often.
In roulette there are 18 red spots and 18 black spots, but let's say the casino offers a variant in which there are 18 red spots but only 17 black, and they don't change the payouts. Which should you play? Should you bet on black sometimes even though it's less likely to hit, because we know that we won't get a red every time? No, we should still bet on red every time. If red is more likely, it's more likely on every spin, even if we don't always win a particular spin.
Basic strategy for blackjack works the same way. You make the mathematically correct choice on every hand. While doing so doesn't give you the best odds on any actual individual hand, it gives you the best odds in the long run.
In 1962 Dr. Edward Thorp used computers to determine the best way to play blackjack. He reported his findings in his landmark book Beat the Dealer, in which he debuted his basic strategy chart. Since then that chart has been reprinted widely, and updated by other mathematicians for different rule conditions. For example, the basic strategy for a single-deck game is different than the strategy for a six-deck game, although they're very similar. Basic strategy charts abound on the Internet and in numerous blackjack books, and in fact the gift shop at most land casinos usually sells a little basic strategy card for only $1.50.
You'd think that since the basic strategy gives you the best odds and since it's publicly available that most players and dealers would be familiar with it. But that's where you'd be wrong. I have rarely, rarely encountered a player who played according to the proper basic strategy. Of the few players I've seen who employed proper basic strategy, many of them were actually counting cards, too. In other words they really knew what they were doing.
Blackjack dealers aren't much better. I can't count the number of times I've been disparaged by a dealer for making a correct basic strategy play, simply because the dealer didn't know it was the proper play. I won't withhold a tip just because a dealer doesn't know basic strategy, but if they rebuke me because of their own ignorance then I don't tip. Recently a dealer at the Las Vegas Club scolded me for making the proper play, hitting an A,7 against a dealer 10, when I happened to lose my hand. He referred to his own cards and announcing, "I had 10!", frowning at me and shaking his head. I wondered how many times he talked himself out of his tip by berating his players. The ironic thing, of course, is that he was the one who was wrong; I made the proper play.
About the same time at Main Street Station a dealer said something that suggested to me that she didn't know the proper plays, so I asked, "Are you familiar with basic strategy?" She replied, "You'll have to be more specific, that could mean anything." Actually, it couldn't. Basic strategy is the specific term that serious blackjack players have used to refer to Thorp's chart and its variants for over forty years now.
While it's disheartening that most players don't use the proper strategy that's so easily available to them, and that many dealers are likewise clueless, there's a silver lining for you: By simply learning basic strategy, you can become a better blackjack player than the vast majority of gamblers in the world, overnight. And you'll be improving your odds, too, and keeping more money in your pocket.
Here are two basic blackjack strategy charts, one for the typical Las Vegas Strip game and the typical Downtown Vegas game. In both games the dealer hits a Soft 17 and the player can double after splitting. The only difference in the games is that the Strip game uses six decks of cards while the downtown game uses two decks. They're nearly identical, and the only differences are on borderline plays. To save the hassle of memorizing both charts, you could use the six-deck chart for both six-deck and double-deck games, and your odds will be nearly as good.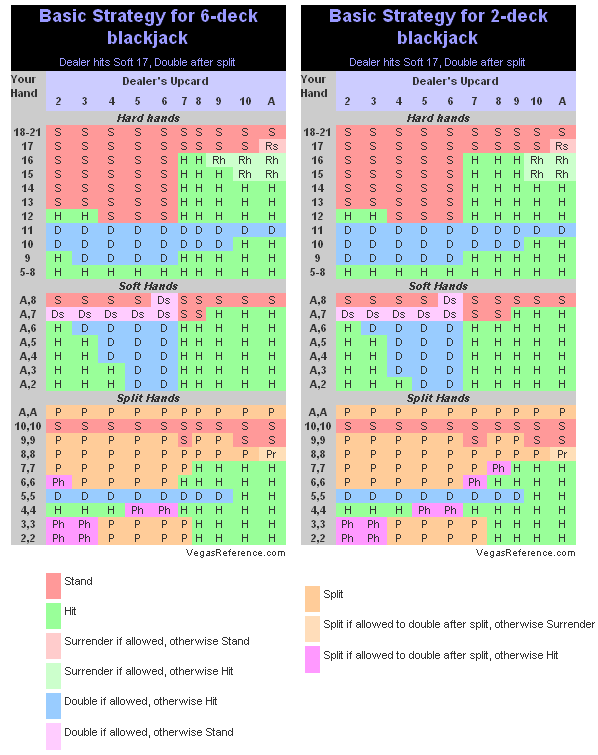 There are only a handful of companies who make online casino software. If you play at an online casino, chances are it's using about one of ten popular software brands. Usually this software offers the same blackjack rules from one casino to the next. So, for example, once you learn the strategy for blackjack at one Microgaming casino, you know the strategy for all Microgaming casinos.
Software providers sometimes change their rules. For example, a few years ago Unified Gaming offered a set of blackjack rules so generous that the player actually had a small advantage over the casino when using basic blackjack strategy. How could they afford to do this? Well, they couldn't. Eventually they got wise and started using standard rules. The moral is, don't assume that rule conditions always stay the same. The best source for current information about the blackjack rules from the software providers is the Wizard of Odds. Here the current rules for four popular software brands at the time this article was written:
| | | | | | | | |
| --- | --- | --- | --- | --- | --- | --- | --- |
| | Number of Decks | Soft 17 | Double on any first two cards | Double after split | Number of splits | Player loses only original bet if dealer has blackjack | Suggested Casino |
| | 6 | Stands | Yes | Yes | 1 | Depends | William Hill Casino |
| | (varies) | Hits | Yes | Yes | 2 | Yes | InetBet Casino |
| Boss Media | 1 or 6 | Stands | Yes | Yes | 1 | Yes | Casino Club |
| | 4 | Stands | Yes | Yes | 2 | Yes | Captain Cooks Casino |
| Cryptologic | 8 | Stands | Yes | Yes | 1 | Yes | Inter Casino |
(C)opyright 2005
- this article may NOT be reproduced for any reason without written consent of author.